1800 TEQUILA UNVEILS THE NEW EDITION OF ITS "ESSENTIAL ARTIST SERIES"
1800 TEQUILA UNVEILS THE 11TH EDITION OF
ITS "ESSENTIAL ARTIST SERIES"
WITH BROOKLYN-BASED CONTEMPORARY ARTIST
DUSTIN YELLIN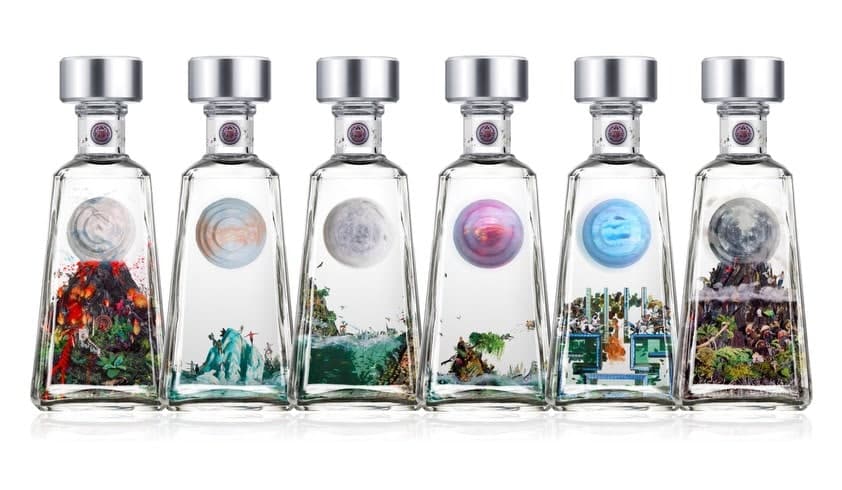 The six-bottle collection features original contemporary work from Dustin Yellin, with $1 from every bottle sold donated to his artist and scientist-led cultural center, Pioneer Works
1800 Tequila, the world's most awarded tequila brand, today announced the 11th edition of its "Essential Artist Series", reaffirming its role in celebrating the best taste in tequila and in life. Featuring a collaboration with Brooklyn-based contemporary artist and founder of Pioneer Works, Dustin Yellin, the latest Essential Artist Series celebrates the harmonious fusion between art and tequila.
The 1800 Tequila Essential Artist Series is a testament to the brand's continued support of emerging and established artists to shape the art community. Through these annual collaborations, 1800 Tequila has partnered with renowned artists, including Okuda San Miguel, Shantell Martin, Enoc Perez, and the Basquiat and Haring estates. With each artist, 1800 Tequila further pushes the boundaries of best in taste by providing creators with alternative canvases to reach new audiences through creating collaborative and bespoke bottles of 1800 Blanco Tequila that become sought-after collectibles.
For Essential Artist Series 11, 1800 Tequila selected Dustin Yellin as its hero creator for their shared values across craft, community, and curiosity. The collection presents six limited-edition bottles showcasing original works by Yellin, inspired by his "Psychogeography Series," which teases the tension between nature and technology through narrative and visual transfiguration. Each of his six designs feature intricate details of human interaction–with each other and with nature–backdropped by different celestial bodies.
"I have been an admirer of 1800 Tequila and its Essential Artists Series for many years now and am incredibly honored to have been selected as this year's featured artist," said Dustin Yellin. "1800 Tequila is an artist-forward brand that celebrates innovation, creativity and culture, in a similar way to which I approach art. I'm excited to present our synergies and my artwork through this collaboration on the classic 1800 Tequila Blanco bottles."
As part of the brand's dedication to moving culture forward and support of emerging artists, $1 from each 1800 Tequila Essential Artist Series 11 bottle sold will be donated to Yellin's non-profit,
 Pioneer Works
, an artist and scientist-led cultural center in Brooklyn, New York. With a mission to build community through arts and sciences to create an open and curious world, Pioneer Works provides visual and performing artists, musicians, scientists, technologists, community organizers, and educators the resources and platform they need to expand their practices.
"1800 Tequila has long prioritized taste above all else – not only in tequila, but extending to the arts, culture and beyond," said Lander Otegui, Senior Vice President of Marketing at Proximo Spirits. "The brand's continuous liquid innovation and passion for moving culture forward find likeness in Yellin's commitment to progressive, purposeful art and support of emerging artists. We welcome Dustin to the esteemed group of 1800 Tequila Essential Artists collaborators and are proud to be raising money for emerging artists with every bottle sold."
The 1800 Tequila Essential Artists Series 11 featuring Dustin Yellin bespoke bottles are now available for pre-sale orders on 
1800Tequila.com
 for $31.99 and will roll out in limited quantities in-store and online at 
1800Tequila.com
, Drizly and ReserveBar in early July. For more information, visit 
1800Tequila.com
 and follow along on Instagram,
 @1800tequila
.