Redbreast Irish Whiskey – the Most Awarded Single Pot Irish Whiskey in the World– Unveils Newest Release, Redbreast Tawny Edition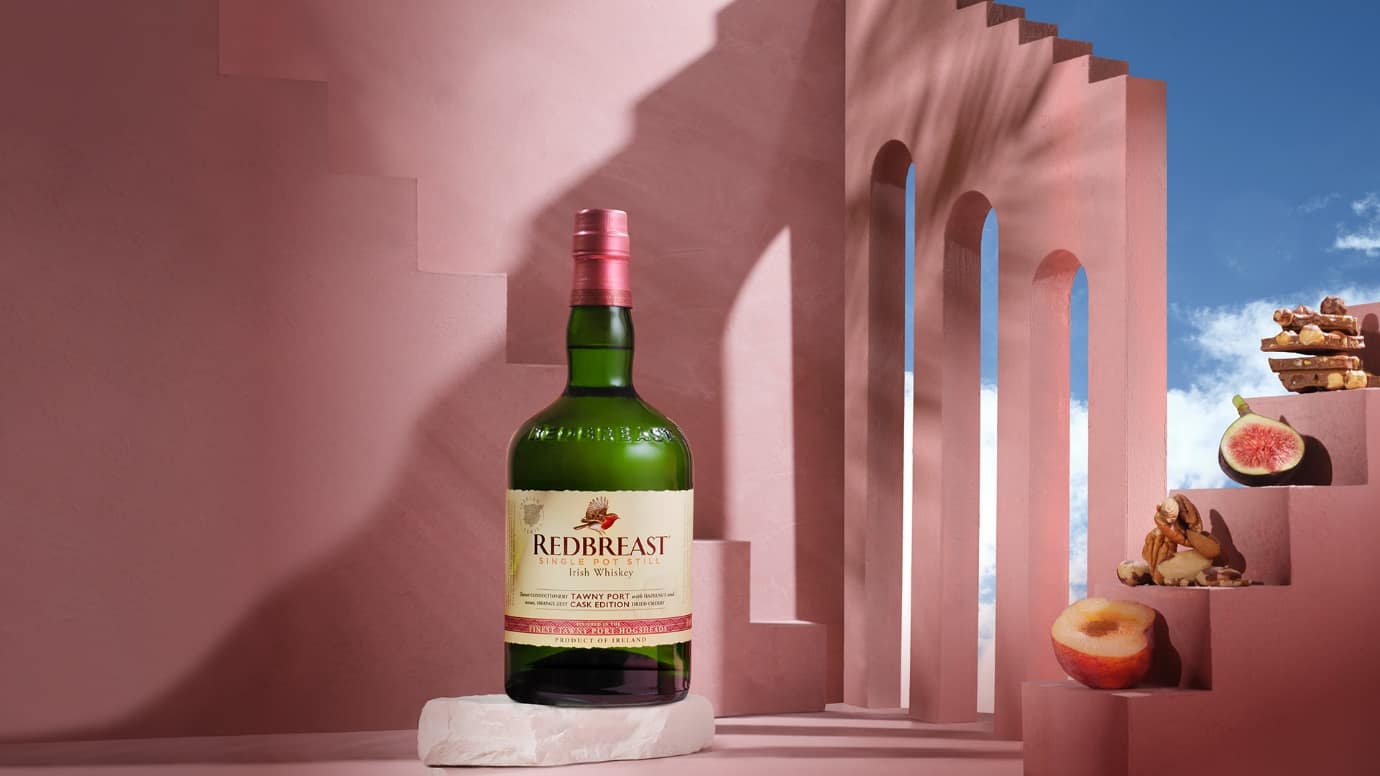 Redbreast Irish Whiskey, produced by Irish Distillers at the world-renowned Midleton Distillery in Cork, Ireland, officially introduced Redbreast Tawny Port Cask Edition, a limited-edition single pot still Irish whiskey finished in tawny port casks from Portugal's breath-taking Douro Valley.
Expertly created by esteemed Master Blender Billy Leighton and Blender Dave McCabe, Redbreast Tawny Port Cask Edition is a single pot still Irish whiskey initially matured in a combination of bourbon and oloroso sherry casks. To add a new dimension to the flavor profile, a portion of these maturing whiskeys were recasked into tawny port casks for a number of years. All of the whiskeys were then skilfully blended and completed their maturation journey by marrying in freshly seasoned tawny port hogsheads for a final maturation period of 14-25 months.
The inspiration for Redbreast Tawny Port Cask Edition started 12 years ago, when Leighton took a trip to the Douro Valley in Portugal to visit some of Midleton Distillery's partner cooperages and winemakers.
"We were enjoying lunch with the late renowned winemaker Joaquim Anacleto and Gesprove Winemaker José Pinheiro overlooking the valley, discussing the various wines and spirits that had influenced our whiskeys," says Leighton. "And, being in the valley, we began to imagine how Tawny Port's intricate flavor profile could affect our whiskies. Curiosity took hold, and we decided to make this daydream a reality – and we are quite pleased with the impeccable result."  
The result Leighton mentions, is a rich, well-balanced whiskey with notes of praline, buttery baked goods, and dried cherries from the earlier tawny port influence, followed by a warming sweetness of toasted caramel and vanilla carried through from the bourbon and an added depth of dried fruits from the sherry. The final maturation period in newly procured tawny port casks elevates the nutty character further and provides a sweet finish for a rich, full-bodied whiskey.
"Redbreast Tawny Port Edition's flavour profile is well within our flock's DNA, yet it provides an exciting twist from another part of the Iberian Peninsula," McCabe adds. "Each subsequent expression in the series will represent a new discovery from this rich region which to date has greatly influenced the Redbreast style over the course of its history."
Redbreast Tawny Port Cask Edition marks the third release of the brand's acclaimed Iberian Series. The series is inspired by Redbreast's long-standing connection to some of the Iberian Peninsula's most celebrated cooperages and winemakers, and combines the rich heritage and craft of the region with the excellence of Midleton Distillery's single pot still whiskeys, to create expressions that are truly extraordinary. Redbreast Tawny Port Cask Edition is the second limitededition to join the series, following the 2021 release Redbreast Pedro Ximénez Edition, and permanent expression and series anchor Redbreast Lustau Edition.
Tasting Notes:
Aroma: Sweet and warming confectionery notes of buttered pastry accompanied by aromas of caramelised almonds with subtle undertones of praline and dried cherry. Scented floral honey with whisperings of a delicate herbal character linger in the background while the seasoned oak and pot still spices accentuate the sweet and full-bodied nature of this wonderfully balanced whiskey.
Taste: Rich and nutty at first with notes of chocolate coated hazelnut and salted caramel, quickly followed with fresh plums and dried fig.  The tannins' soft presence works in harmony with the luscious and creamy texture, evoking notes of orange marmalade with delicate hints of toasted oak.
Finish: Lingering finish which sees the pot still spices and fruits slowly fading, leaving the tawny seasoned oak to have the last word.