RÉMY MARTIN AND GRAMMY AWARD-WINNING GLOBAL SUPERSTAR USHER TEAM UP TO CELEBRATE NOTES OF LIFE, MUSIC AND COGNAC IN "LIFE IS A MELODY" CAMPAIGN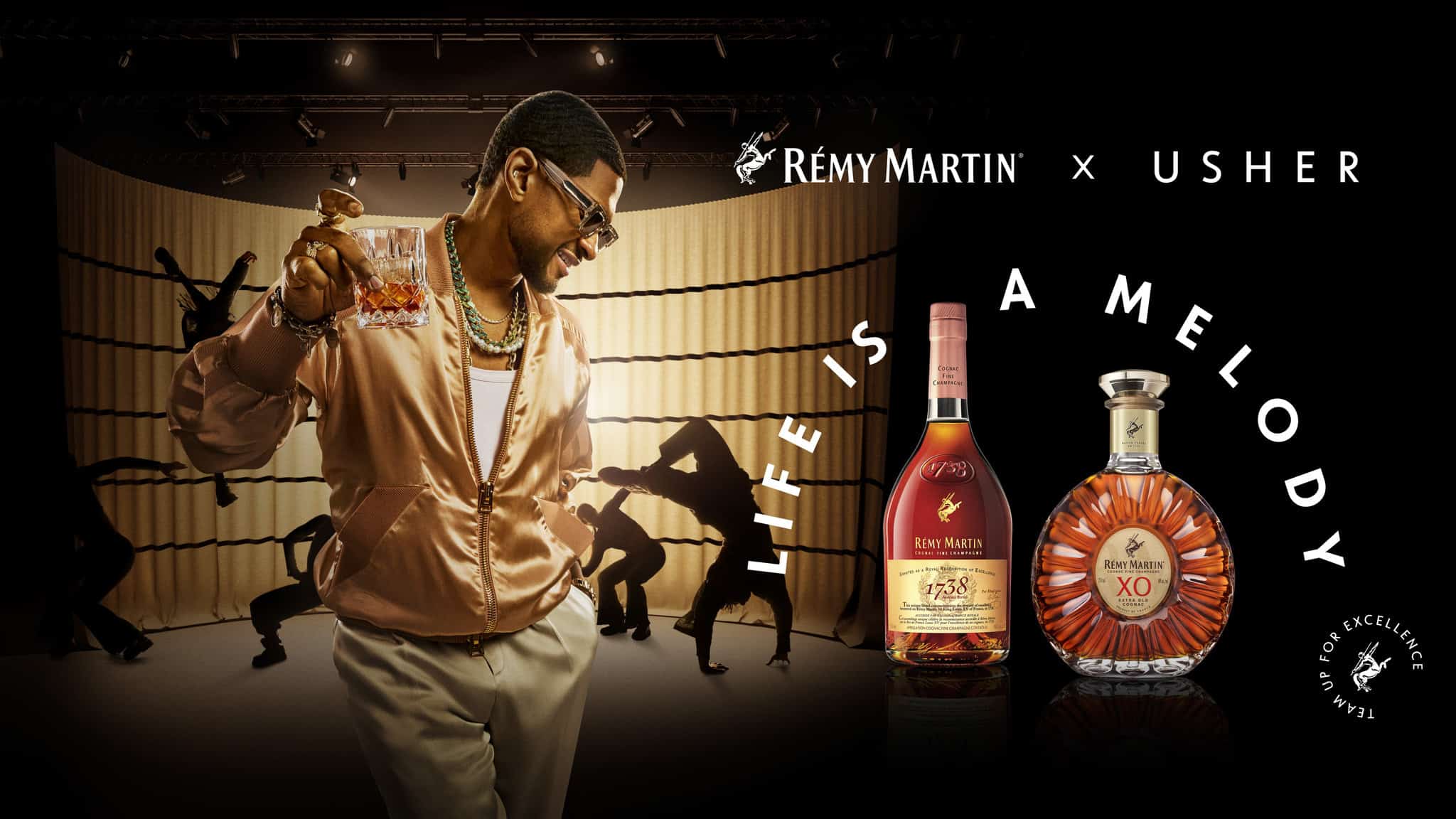 Rémy Martin & Usher Reunite with New Campaign Celebrating the Harmonious Blend of Music, Culture and Cognac Fine Champagne
Rémy Martin, Cognac Fine Champagne, and Grammy award-winning global superstar Usher team up to debut a new global campaign, "Life is a Melody." Featuring a track from Usher's highly anticipated new album, the campaign invites music and spirits enthusiasts alike to embark on a harmonious journey where the notes of Rémy Martin and the melodies of life intertwine in perfect harmony.
The campaign is inspired by the idea that a beautiful melody is created through the harmony of ideas, influences, encounters and experiences – the visuals and movements in "Life is a Melody" capture everyday elements reminiscent of music notes. Teasing fans with a preview of a new song, Comin' Home, from his highly-anticipated album, Usher takes center stage in the creative, sitting at the piano and enveloped in the embrace of Rémy Martin 1738 Accord Royal and XO bottles. Every element, from the captivating visuals to the curated soundscapes, showcases the deep connection between Rémy Martin, Usher and the world of music.
"As an artist, I've always drawn creative inspiration from different facets of life that are expressed through my music," says Usher. "I'm incredibly excited to continue my partnership with Rémy Martin, representing their exceptional cognac expressions of 1738 Accord Royal and now, for the first time Rémy Martin XO, sharing an exclusive preview of my new music in a campaign that captures the breadth and endless possibilities of beautiful composition and marvelous melody."
Alongside Usher, the campaign brings together exceptional creative talents including Director Fleur Fortune, Chief Strategist Partner Aakomon Jones and Choreographer Cathy Ematchoua. With their expertise, these creatives contribute to the symphony of artistic expression, infusing the campaign with fresh energy and elevating the concept that every note, every pour, and every bottle is about more than just taste, it is the culmination of history, place, and people converging to create something truly remarkable.
"Through this partnership, we continue to draw inspiration from music as a timeless source," said Jean-Philippe Hecquet, Chief Executive Officer of the House of Rémy Martin. "The 'Life is a Melody' campaign, in collaboration with Usher, embodies the artistic synergy between Cognac, music, and life itself. This harmony is reflected in the diverse range of tasting notes that blend together to create refined expressions"
"The 'Life is a Melody' campaign embodies the fusion of Rémy Martin's exquisite cognac, the enchantment of music, and the art of roller skating," says Tina Reejsinghani, Vice President of Luxury Brands at Rémy Cointreau Americas. "This campaign, and the introduction of the Rémy Après Skate and cocktail experience underscores our timeless dedication to the culture of music and to our consumers who value exceptional experiences and the unparalleled craftsmanship of Rémy Martin."
As an extension of the campaign, Rémy Martin and Usher will embark on a nationwide tour across the US that embraces Usher's deep connection to skate culture. With its roots intertwined in Usher's love for music and the vibrant skate communities, the "4 on the Floor" pop-up skate experiences will come to life in cities including New York City, Los Angeles, Las Vegas, Chicago, and Atlanta. Each skating experience will be accompanied by an immersive Rémy Après Skate speakeasy for a noteworthy cocktail experience, featuring a selection of specialty cocktails where Rémy Martin 1738 Accord Royal and XO take center stage, including the UR Way, which spotlights Rémy Martin 1738 Accord Royal in a fresh, light and refreshing way and a trio of Rémy XO Old Fashion variations that each feature a spicy, fruity and bitter profile.
For more information, click HERE and follow along on social.